Last Updated on August 21, 2020 by Admin
We all aware with the fact that MS Access is an efficient data management tool and can save macros, tables, forms, queries, and more. Due to its user-centered interface and functionality, the MS Access becomes more popular now a day. The database items are stored in proprietary ACCDB and MDB file extensions. However, there are various situations that can cause database file corruption such as power outage, unexpected termination of MS Access, malware attacks, a hardware issue causing an unexpected shutdown.
Access Database Error 3049
Among the many errors that Access user's faces during the process is error code 3049. When a user tries to open the database this error code start pops up and make database inaccessible for the user. It is essential to point out that this error can manifest as the Access 2007 and later versions incorporate several advanced features such as data macros, publish to Access services, and more. But older files might not open in these versions. Due to this, the application throws an error with the message: "Cannot Open Database It may not be a database that your application recognizes, or the file may be corrupt."

Therefore in this blog, we will going to discuss all the possible causes for getting Access database error – "cannot open access database". Furthermore, we will also going to discuss all the possible ways to get rid of "can't open access database" error using manual as well as third party solutions.
Possible Reasons behind Error Code 3049
We have found some of the prominent causes behind the error code 3049, let's take a look:
Inconsistencies and conflicts due to hardware or software.
File damage due to large databases storage.
Unintentional data deletion or improper storage media formatting.
Database has been restored from an old backup.
Inconsistencies in the Jet Database Engine (JDE).
Due to an unsupported version of MS Access file created in 2016, and below versions.
Fruitless database design causing file size bloating.
Cause error Due to various malicious attacks.
Ways to Fix Access Database Error 3049
Now in the upcoming section, we will find a manual approach to fix or resolve Access database error 3049. There are various methods that will help to remove Access error 3049 and fix mild database corruption.
Following are some of the reliable methods that have already been tested:
Convert Access MDB files to ACCDB Format
Recover from Access Database Backup Copy
Compacting & Repairing
Using Drive Inbuilt Tool
Access Database Repair Tool
These are the reliable methods that will help to remove Access error 3049. Follow the methods mentioned below:
Method #1 Convert Access MDB files to ACCDB Format
Due to uncertainties between the old MDB version and the new ACCDB version, MS Access provides a manual procedure that can send data from older MDB files to the recent and latest ACCDB files. It is often recommended to close all the programs and files related to MS Access. This process can only be work on Access 2007 or its later versions.
You just need to follow the detailed steps given below, to perform the conversion successfully:
First open MS Access >> click File >> click Open. Next, >> click Browse button to look for the file.

2. Open dialog box appear on the screen. Select MDB file that needs to be converted to ACCDB format >> click Open.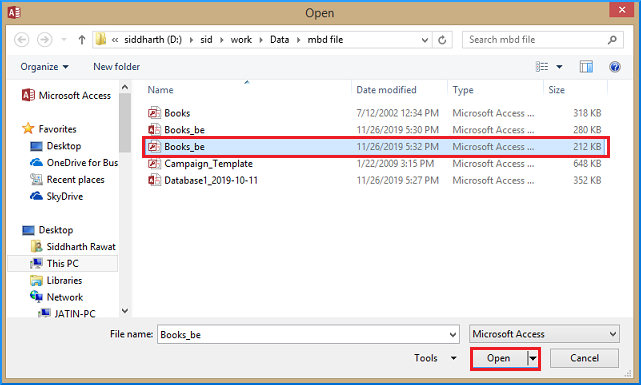 3. Now again, >> click File tab and >> click Save As >> click Save Database As >> click Access Database.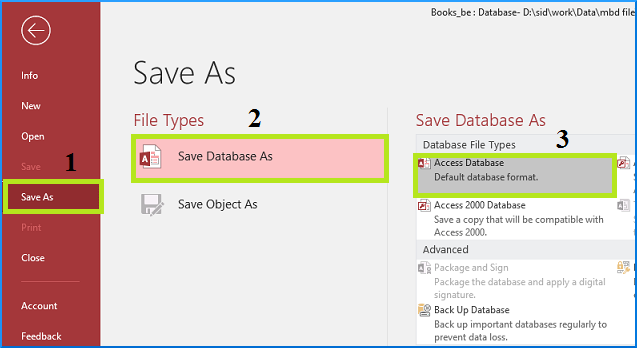 4. You will see the following popup message, If the conversion is successfully completed:


Finally, you have successfully converted your MDB file to ACCDB format.
Method #2 Recover from Access Database Backup Copy
This is the best tricks to access your MDB files. But before using this method, you must have a backup of your databases for future use.
Note: To create a backup, you need to follow the steps which are outlined below:
Move to File tab >> click Save As >> select Save Database As >> Back Up Database and >> click Save As.
Now, you need to provide the mandatory information and >> click Save.
Method #3 Compacting & Repairing
As we have already mentioned, the access database can grow significantly in file size and can become corrupted. In this case, this compacting and repairing feature helps us, as it is able to reduce the size of database files.
To open the database, that needs backup, move to the File tab and choose >> Compact and Repair options from the >> Info tab.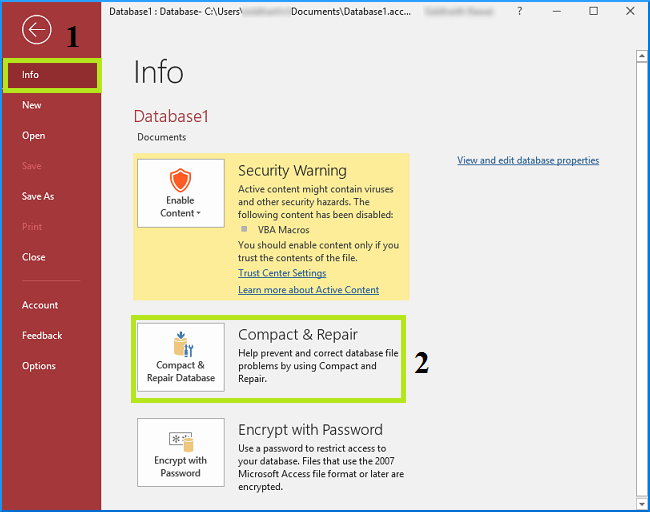 Method #4 Using Drive Inbuilt Tool
Very few users know that Windows has a built-in drive tool to repair corrupt access databases, which is highly capable of handling database errors such as 3049 very easily.
You can follow the detailed steps given below to repair the Access file:
 First you need to open the file explorer, then paste the following path in it: C:\Windows\SysWOW64
2.  Now scroll down and you will see the odbcad32.exe file, just launch it.
3.    In the User DSN tab, you just click on the Add button.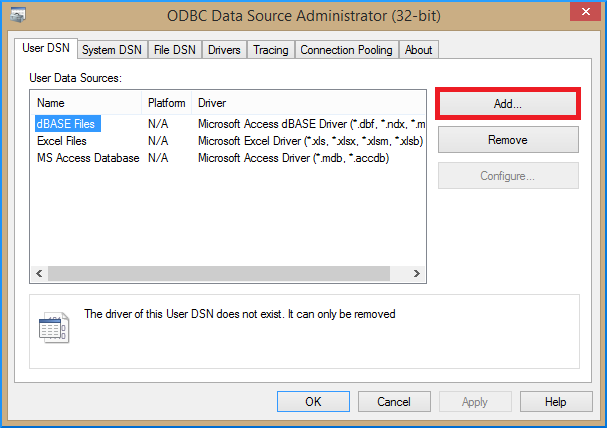 4.  Here a new window will open as "Create a New Data Source". Now, Select the Driver do Microsoft Access (*.mdb) option and click on Finish.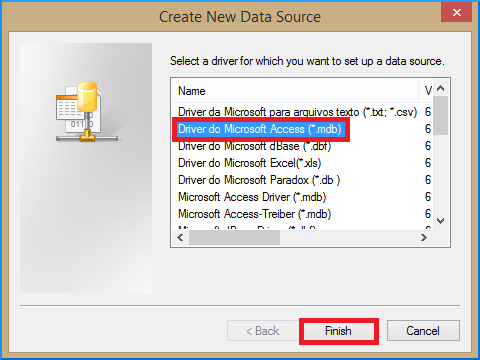 5.  To proceed next, you are required to click on the Repair button.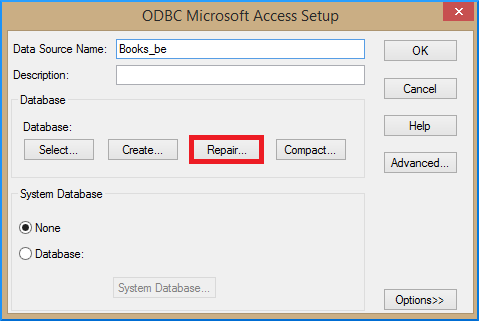 6.  In the Repair Database window, you need to select the drive and then the folders containing the MDB files, as you see below. Click OK.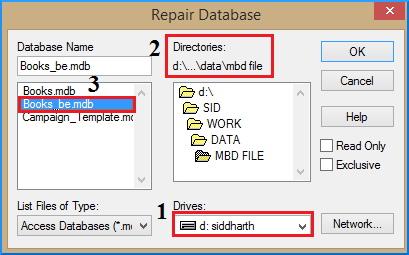 7.  You will see the following message as given below, if the repair gets completed successfully.


Method #5  Access Database Repair Tool
If the above given methods doesn't work for you, then as a last resort, you can check out for a reliable third-party tools such as Access Database Repair tool. This standalone utility is highly efficient when you are dealing with common Access Database errors such as error codes 3112, 3800, 2239, 3011, 3049, and more. Have you recently been asking, how you can fix the access database 3151 error, than really you are very lucky, because this tool can efficiently fix the error code 3151 for you. Not only this, it also provides many other features that help you in flawless database recovery.