Last Updated on August 21, 2020 by Admin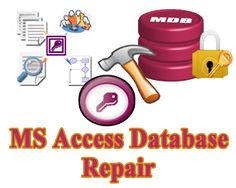 MS Access recovery software is the Powerful and best recovery software in the market to repair corrupt and damaged .ACCDB and .MDB files. Access database repair tool will help you in repairing the several corrupt access database file and restore all the files objects in new MDB file. Evenly software also restore the records that have been previously deleted from access database.
This Software is completely secure & easy access database recovery utility designed to repair corrupt Access database (.mdb files). Access file recovery software scan the corrupt or inaccessible access database file and create the new files so that the user can working with this new file (.MDB). Access Repairing Tool is embedded with the powerful data recovery algorithm.
Our aim is to provide the software user friendly and accurate results. And software fully capable to restore or recover MDB file objects such as tables, queries, relationship etc. This Access Recovery Software is integrated with GUI interface and Anyone can use this application easily. There is no technical skill is required to access this application.
Key Features: Repair MS Access Database

1) Restore table structure and data from corrupt Ms Access database
2) Restore and Repair all multiple Access data in original date format
3) Repair password protected .mdb files
4) Repair and Restores memo and OLE data
5) Restores table relationships
6) Preview the recovered items before saving them into your computer
7) User friendly interface, no technical skills required
8) Supports Windows OS versions (98, ME, NT, 2000, XP, 2003, Windows 7, Windows 8 and Windows 10
9) Preview database tables column info, relations, and indexes
10) Supports MS Access 2019, 2016, 2013, 2010, 2007, 2003, 2002, and 2000
Why Use Access File Recovery?
Are you suffering From the damaged, inaccessible or corrupt .mdb or.accdb database files? There are several unexpected reasons to corrupt these files like virus attack, Software crash and suddenly Shutdown of PC , corruption in storage drive and even more. when your access damaged or corrupt ACCDB and MDB files , you may face some errors like:-
1.   Database format not recognized.
2.  Database is not a database files or needs recovery.
3.  MS jet engine failed to locate the database object.
In order to combat and fix these issues, Access File Recovery is compatible software which prominently repairs and rebuilds both ACCDB and MDB files without losing its accuracy.
All Corruption Errors Recovered:
There are several errors occurred in MS Access. This access repair tool can cover all the usual corruption errors like file.mdb needs recovery or not recognized as database file, Microsoft Jet cannot find database objects and even more.
All Access Database Objects Supported:
With this software, you can have high scalability as it provides support to all the objects of Access database like Tables, Forms, Deleted Records, Indexes, Macros, Linked Tables, Modules and more. By having this tool handy, you can enjoy complete recovery of Access database files.
Data Loss Reason – Repair Access Database
1.   Unrecognized Database Format
2.   File damaged with error message 'Invalid Page 3.   Fault' when opening the mdb file.
4.  Microsoft Jet Engine unable to open the mdb file
5.   Improper System Shutdown or Software Crash
6.   Enter database password – even though none was set up
7.   MS Access has encountered a trouble and wants to be close
8.   Improper splitting of database
9.   Operating system damage
10.  Human Mistake
11.   Virus Attack
Two Recovery Modes of Access Data Recovery
  1.  Standard Mode        2.   Advanced Mode