Last Updated on August 21, 2020 by Admin
Microsoft Outlook is a popular email client, through which many users, like you, use it globally to send and receive their email messages. If we go into it in detail, it has versatile features like meeting, appointments, tasks, notes and more besides being an email application only. However, problems in Microsoft Outlook are not just due to application failure, but such problems can also be caused by software malfunctions.
Before I proceed, I would like to ask a question – Have you ever received an error message while working on Microsoft Outlook? If your answer is in yes, we want to tell you that these error messages can crash or stop responding to Outlook, or sometimes errors may cause file corruption issues, if we not take it seriously in time. But you don't need to panic, because in this blog, we are going to discuss the top 5 common Outlook error messages. Also, we will learn how we can easily fix those errors.
Common Outlook Error Messages
Whenever there's any sort of problem in Microsoft Outlook, you're likely to face different error messages. Below are the top 5 most common Outlook error messages:
#1 – Cannot open your default email folders

Suppose you have started Microsoft Outlook, and suddenly you come across unexpected error messages, that look exactly like the error given below:
"Cannot open your default e-mail a folder, an unexpected error has occurred. MAPI was unable to load the information service msncon.dll. Be sure the service is correctly installed and configured."
The msncon.dll error message is associated with the Outlook Hotmail Connector. Therefore, there are two certain scenarios in which you will get this error:
First, if your Outlook Hotmail Connector is not installed on your system, but your Hotmail account is still configured with the Microsoft Outlook, then you have two ways-
Either you reinstall your Outlook Hotmail Connector again;
Or, remove the Hotmail account from your mail profile if you don't want to use it again.
Second, if you have already installed latest version of Outlook Connector on your system, and still getting error message, then follow this simple steps:
First, you need to enable the add-in manually.
Then, reinstall Outlook Hotmail Connector on your device. Now, remove the Hotmail account from the Outlook profile.
Now, just Restart Microsoft Outlook; add Hotmail account again using Outlook Hotmail Connector menu.
After successfully creating the account, repair the Office installation.
Once it's over, you need to recreate your mail profile.
#2 – The connection to Microsoft Exchange Server is unavailable
Resolving Outlook errors always seems a little tricky, especially this one.This error message reads-

"The connection to Microsoft Exchange Server is unavailable. Outlook must be online or connected to complete this action."
Being one of the most common Outlook error messages, you may ever encounter this specific error. Some possible reasons responsible for this error are given below:
No Data Connection
Solution: If no data connection is available at that time, you can use the Telnet protocol to test your SMTP connection. If you do not know how to use it, then you should take help of this guide published on Microsoft TechNet site: Test SMTP with Telnet.
Outlook Data Files are Locked
Solution: Sometimes, it can happen that the Outlook data files, such as PST and OST files are accidentally locked, and you have no information about it. But, on the other hand, it may be happen that Outlook data files are set to read-only status. Therefore, in advance you should better check the permissions of these files, and make sure either it is set to read-only status or not.
Interference of 3rd Party Applications
Solution: There are a variety of third party applications available, that can interfere with Outlook while it is connected to Exchange Server. If this is the real reason for all this, then you should better start Outlook in safe mode.
#3 Outlook is unable to connect to the proxy server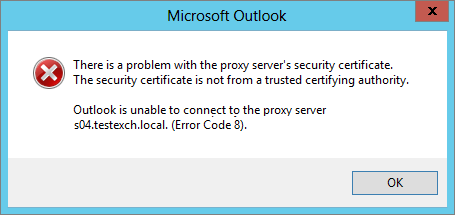 Outlook users may receive this particular error message, when they connect to the server by using a Remote Procedure Call (RPC) connection or a Hypertext Transfer Protocol Secure (HTTPS) connection. This error message looks, exactly like the error given below-
"There is a problem with the proxy server's security certificate. The security certificate is not from a trusted certifying authority. Outlook is unable to connect to the proxy server."
To fix this Outlook error, you have several options that you can try:
Examine the certificate
First of all, then you need to check the certificate, after that you need to contact your system administrator to fix this problem, by following these simple steps given below-
First of all, you have to connect RPC server or secure server in Microsoft Internet Explorer. Then, type

https://www.server_name.com/rpc

in the address bar, and then click Enter to proceed.
Now, in the lower-right corner of the web browser, you will see Padlock icon, double-click on it.
Now, click the Details tab, and examine the information of these two fields:
Valid to
it indicates the date until which the certificate is valid.
Subject
Make sure that this field matches the site name.
Install the trusted root certificate
If you need to install a trusted root certificate, then you need to follow these steps:
In Certificate dialog box, click Install Certificate and then click Next tab.
Now you need to check the Place all certificate in the following store box. >> click Browse.
Here, just click Trusted Root Certification Authorities, and then hit the OK button.
Now click Next >> then click Finish >> and again click on OK.
Disable the third party add-ins
If you are really thinking of disabling any 3rd party add-in, you should start Outlook in safe mode before doing this task.
You simply need to press Win + R to move to the Run command prompt.
Now, you need to type Outlook.exe/safe in the edit box, and hit Enter tab.
If Outlook starts in safe mode without any problems, then it is clear that the actual problem was linked to third party add-ins. So now you have to check the problem in 3rd party COM add-ins, and also it needs to be fixed.
Open Microsoft Outlook, move to taskbar, and click the File tab >> Options >> Add-ins.
In the Manage box, you just on click COM Add-ins, and then hit on Go.
Next to the 3rd party add-ins, you will see checkboxes; just clear them that you want to disable.
Now you need to restart Microsoft Outlook again.
Notes to remember: Always keep in mind that, Outlook uses Internet Explorer settings for HTTPS requests. If a third party browser add-in is causing this problem, then you need to disable it in Internet Explorer.
#4 – Outlook Send Receive Error 0x800ccc13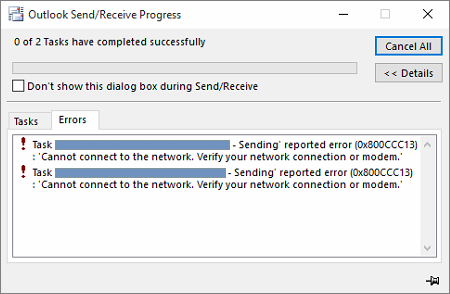 The most Outlook errors occur occasionally when you send and / or receive email messages, but Outlook error 0x800CCC13 is a common issue that you always encounter when you use Outlook. This error message usually occurs after upgrading from Windows 7 or 8 to Windows 10. So, Users who have recently upgraded to Windows 10 are more likely to face this error. It read,
"Sending reported error (0x800CCC13): Cannot connect to the network. Verify your network connection or modem."
If you want to resolve this Outlook error 0x800CCC13, make sure that-
You must have to use Windows 10 and Pro 1511 (Build 10586) or any higher version.
For Windows home, you must require version 10 (10240) or any higher.
If you are still facing this Outlook Send Receive error, it is possible that your system files are corrupt and you need to repair them. You can use Windows system file checker to repair your corrupted files.
For this, first of all, you have to close Microsoft Outlook.
Now you need to right-click on Start in Windows and select Command Prompt (Admin) from it.
Note: If you do not see the option, you can select the Windows PowerShell (Admin).
Go to the command prompt and type sfc /scannow. Wait for 20 minutes as the process will scan a regular hard disk. After the completion of the process, you need to restart your computer and open Microsoft Outlook.
#5 – Cannot start Microsoft Outlook

When you use Microsoft Outlook, you will often encounter unexpected errors, which can cause serious problems. It reads,
"Cannot start Microsoft Outlook. Cannot open the Outlook window. The set of folders cannot be opened. The operation failed."
There can be many reasons associated with this common Outlook error, such as – it is possible that your Outlook profile has become corrupt, and that is why you are experiencing this error message again and again. You can find this file in the folder as shown below:
On Windows XP
C:\Documents and Settings\username\Application Data\Microsoft\Outlook
On Windows Vista & 7
C:\Users\username\AppData\Roaming\Microsoft\Outlook
Note: If you ever see the XML file size is 0 KB, then it's a strong signal of corruption.
If you really want to resolve this problem, chase these simple steps:
You are required to press Win + R to go to the Run command prompt.
Now you need to enter Outlook.exe /resetnavpane in the edit box, and now just click to Enter.
If you fail to fix the problem with the above trick, then you need to follow this one last method given below:
First you should make sure that Microsoft Outlook is not running in compatibility mode.
Always keep in mind that Microsoft Outlook may not be start, if you are using old profile of any older Outlook version.
Make sure that you are using a newly created Outlook profile.
MS Outlook Installation and reinstallation over and over again can also lead to error, if done improperly.
Most importantly, if you have corrupted file, than you're likely to receive this error.
Outlook PST Repair Tool
Especially nowadays, a corrupt PST file is considered to be the main reason behind most common Outlook error messages. Microsoft provides the Inbox Repair tool to repair PST file, but in case it does not work to resolve the issue, then you can go for a third-party recovery tool- Outlook PST Repair Tool which is most reliable solution repair inaccessible PST files and fix Microsoft Outlook issues and errors. Moreover, this software can easily workable on all the latest Outlook versions such as 2019, 2016, 2013, 2010, 2007, and all lower versions in Windows OS. We would like to strongly recommend all the users to use this versatile utility for better output.
Use Free version to Repair PST Files.